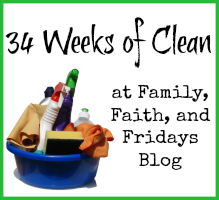 My friends Michele and Kemi have challenged. . . umm, invited us to join them in "34 Weeks of Clean" over at Michele's blog. Did you join in with us? I'm going to try to keep up with it for the whole 34 weeks. The girls and I spent a large part of the last 3 weeks of 2014 de-cluttering our house, specifically their rooms and a couple of book shelves. I want to join my friends (and encourage my readers) in this plan to keep the stuff from taking back over our homes.
If you haven't done any cleaning or de-cluttering yet don't worry. Michele's plan is for us to each work on one task a week, and then check in each week for a new task. By the end of the 34 weeks, we should each have a cleaner, less-cluttered home. This week's task was organizing and storing the holiday decorations.
If you'll think back, we didn't put up a lot of decorations this year. . .but we still had some de-cluttering to do. The girls brought our totes back up from the basement, and we went through the other decorations first. We came up with a small bag of things to donate, and a medium-sized pile of things to throw away. Once they were organized, we took down the decorations we used this year, and packed them into the totes. The ceramic tree went back in its box and we returned them to the little spot in the basement.
Since we didn't put up our artificial trees this year, stow-away was easy. Now that the ornament are organized, and the stockings are on top, getting everything out again in December should be easy too.
How did you do this week? Feel free to leave a comment and tell us what you did!