Do you still cringe at the thought of making a plan for high school coursework and a schedule for your student? You might want to start with reviewing some of our past posts... especially the one from this Monday about record keeping.
I'll add in some other links to past posts about planning and unusual coursework as we go along today.
One thing I really want to encourage you with is that your homeschool does NOT need to look like anyone else's homeschool! I have a lot of home educating friends, and I'm pretty sure that NONE of them educate like we do. No one minds though, because we are all choosing the methods and curriculum that work best for OUR children. Just because you're doing something differently does not mean it is wrong!
For my friend who are very bookish (think Abeka or BJU Press) they might think we unschool... but we don't. For those who love Unit Studies, they might think we don't do enough hands-on projects. We do a lot of hands-on, but neither of our girls was a fan of Unit Studies - thus our experiential style of learning developed.

So if you are stressing out about what others are thinking - stop, just STOP!

They don't think about your teaching nearly as much as you think about what they think-LOL!
Planning for high school requires knowing your State's requirements, having some sort of an idea of what your child might want to do after high school, and knowing how hectic the rest of your life is for scheduling. I heartily encourage you to give them a college-prep variety of courses. If they want to attend college after graduation - they'll be ready, and if they don't - it won't hurt them any!
On Wednesday of this week Emily and I went to our local community college so she could register for her classes for Fall. She graduated in December and has been working this semester to save for a car to get back and forth to her upcoming classes. The staff was so gracious and kind to her. They answered all of her questions, and all of mine! She feels well prepared, and I feel as though we allowed her the opportunity to receive a quality High School education. I learned that one thing was missing from her transcript - the words Core 40, which is Indiana's basic Diploma/ Graduation description. Now I can adjust that on her transcript, and I'll know better when I'm working on Arlene's transcript next year. Emily quipped "Mom, you'll have to blog about that." The counselor said "Oh yes, please do! We would love to get the word out to the homeschooling community to make their transition to college even easier and I work with a lot of homeschoolers during admissions." I'll write more about that soon. :)
I would like to encourage you to check out some of our previous posts for more help on planning for High School. I also want to encourage you to read my guest posts on the Homeschool Review Crew's blog about Experience Based Learning and a quick bit of encouragement Homeschooling All the Way Through From here on our blog:
Homeschooling When Life Happens
, and How Will I Teach High School? Then there's this one about Language Arts and History.
We love studying history! Arlene was just reading a YWAM book about Abraham Lincoln earlier this week and we're watching Drive Thru History ® - "The Gospels" which is all about history, Jesus's life, and the area around Israel. Both of those will have reviews coming up soon so stay tuned!
High school can be so much fun! Put your worries to rest, and ask God for the direction that your children should take on this journey. Then enjoy the ride!
Click on the pictures below to see what everyone else is sharing about homeschooling today!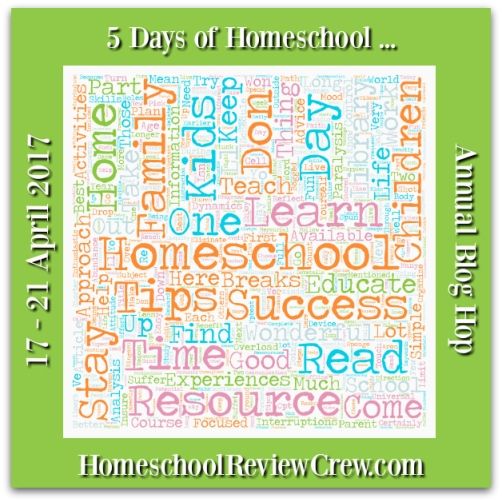 * *