Today I'm combining our Blogging Through the Alphabet weekly post with our 5 Days of Homeschooling Blog Hop. The letter is: N. My topic for all five days is: An Honest Look at High School.
NOW is the time for you to keep records! Whether you've been an organized, planned to the last detail homeschooling Mama, or a fly-by-the-seat-of-your-pants type of Mama, high school requires you to be a good record keeper. You see, there is this thing looming on the horizon ~ it is called a transcript. For some that thought strikes fear in their hearts and they give up and send their children to public or private school for high school. For others, the thought of preparing a transcript is just another set of boxes to check and they're up to the task. Wherever you fall on that spectrum... let's just get to the record keeping shall we?
I'm going to start right off and say that I did NOT plan out Emily's high school courses before she began 9th grade. I probably should have, but I didn't. What I did do correctly was keeping track of what she accomplished that year. Then in the Spring of that year I matched up what she had done with the courses our state requires for graduation and looked at what she had left to cover. We were a part of a Classical Conversations group her Freshman year, so she had plenty of meat in her coursework.
Things I did right that year? I looked at our State's requirements and kept attendance records. I kept her CC group's outline so I could always go back and see what she had covered. I printed the course descriptions PDF from our state's Department of Education so I could see what to call each course on her transcript. Oh, and I loved her a lot, even when she struggled.
If you're needing some help with getting organized to keep good records, here is step one: get a three ring binder and devote it to high school. Looking back through that binder today, I have at least six hand-written pages of notes for Emily, and one typed one (besides the transcript!) Those notes helped Emily & I see what she had accomplished, what she still needed to accomplish, and helped tremendously the year that Kurt got really sick and school got put on hold for a month. In the midst of the chaos of everyday life, those notes reminded me to "do the next thing." They were a place where Emily could see that she still needed to finish a report for her Music Appreciation course, or find the login information for her Homeschool Piano lessons.
So what did I learn? That planning ahead is not such a bad thing, that keeping all my records in one easily-found binder is golden, and that Arlene was going to be doing some things differently when her high school years came around!
Now is when you need to decide what to do about record keeping. I know a lot of Moms like online sites. I used the Applecore record keeping system from our SchoolhouseTeachers.com account to create Emily's actual transcript. While these computer-based or online programs can be great, and a solid way to create the actual transcript, having a paper system as well gives you room to plan and dream. If your student needs a fourth year of science, why not specialize it for them. What do they really like? Botany, Anatomy, Astronomy? That three ring binder gives you one place to store all those notes and curriculum wish lists!
Grades, yes that's another place you need to keep records. I was not a grade-giver until high school. Other than math or spelling, the girls never got grades before then. But now? Now they need grades for their classes so I can figure their GPA. Hmm...wondering about that one too? Decide at the beginning of each year what you want them to accomplish from their coursework, they spell it out plainly to them. If they exceed your expectations they can earn an A. If they only meet them, a B. If they're struggling, even after you give them extra time and help, then a C is the best they're going to get. Most high school curricula written for homeschoolers comes with some sort of a grading guide in the Teacher's manual. Use it!!! Adapt it if necessary. But please, please, put something in your records for the grade each semester!
I think that's enough to start your brain rolling. Here are links to some other posts I've written about planning, a planner, another planner, yet another planner, and transcripts.
Come back tomorrow and get another honest look at high school. It can be such a great joyful time, but also a challenge. Learn all you can before your children get there, and you'll be better able to adapt their education to meet their unique needs!
If you're wondering what happens after Graduation...go read my post: After The Diploma on the Homeschool Review Crew Blog from last Friday!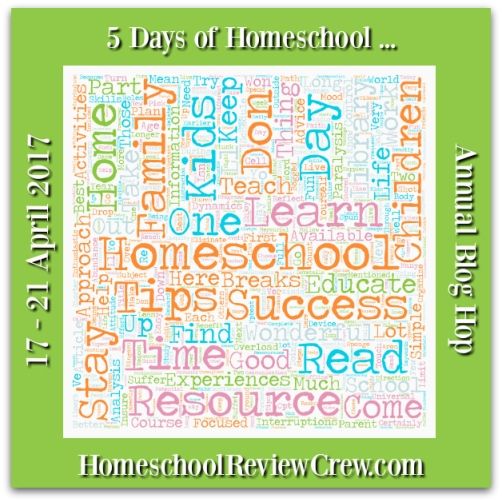 * *