I have seen lots and lots of writing curriculums focused on research papers, book analysis, creative writing exercises, and short stories, but this is the first one I've seen that focuses on writing a long work of fiction. Emily and I have been reviewing Writing Fiction [In High School] from Writing with Sharon Watson as part of the Schoolhouse Review Crew. Emily has been doing most of the work, I've just been getting the benefit of hearing her story develop.

This 280+ page book retails for $25.05 and includes 13 chapters that cover everything from the overview chapter "Facts About Fiction" to the final chapter, "Getting Published." This book is designed to cover two semesters as the student works on their own writing, and meets with either a group of students who are also taking the class, or at least a group of friends who can help them discuss and evaluate their stories. The lessons have assignments to do either on your own, or as a part of the group (discussion questions or writing samples to share in the group.) It also contains additional information and assignments for students who already have, or are starting, their own work of fiction (either a short story or a novel.)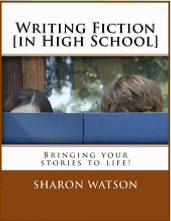 I appreciated how the chapters on "Theme" and "Plot" don't come until after the students have learned about other necessities like "Characters and Characterization,""Conflict," and "Dialogue." Many students seem to have the assumption that all they need is an idea to write a good story. Sharon Watson helps them understand the building blocks that turn an idea into a great story.
We also received the Teacher's Guide, which at 76 pages retails for $9.95. As the website mentions, the Teacher's Guide

"Equips you to be as involved as you care to be." In Emily's first few chapters, I haven't needed to refer to the Teacher's Guide, but I have looked it over and seen how valuable it would be for parents whose students are not able to meet in a writer's group to discuss their assignments. It can help the parent with an overview of the assignments to discuss, without consuming a lot of planning time. It also includes your own handy copy of the "Proofreading Marks" page, so you need not always be borrowing your student's book!

There are several exercises that use outside materials (such as a newspaper, a scene from a movie, or a book from the library) in order to help the students understand each concept. Parents can preview these in case they want to make any adjustments for a particular exercise. All of these are listed in the Teacher's Guide on page 3.
Emily's writing group consists of some of her friends she sees regularly at church, and a friend she can call and discuss ideas with whenever needed.

While using the book, I have seen Emily stretched in her writing to try new things. Sometimes she struggles with a particular exercise. Usually it is not that the exercise is too difficult, but because Emily thinks it hasn't turned out as well as what she did earlier in the week, she is frustrated. Some things are just more difficult to write.

Emily has been doing the extra assignments for those with a work of fiction in progress. Sometimes her fictional work gets several pages done a week, sometimes it is significantly less because she has spent time ruminating on the lessons and isn't ready to proceed yet. It is fun to listen to her ideas developing into a story. Many of the main characters resemble her friends. This makes a lot of sense, since chapter one talked a lot about how quality fiction sounds believeable, almost like real life.

If your student is not the self-starter type, you will need to check the Teacher's Guide every day or two to make sure they are actually completing the assignments. Since Emily always wants to tell me what has happened in her story, I had an easy time keeping track of her work.

I have appreciated this book, and I'm sure Emily has had a lot of fun with it. Since we spent most of the year working on research papers, she was definitely ready for a change of pace. It should be obvious from the title that this is geared for High Schoolers. If you have an advanced Eighth grader, I could see using this as advanced High School credit. Within the thirteen chapters, there is a lot of variability in length and number of exercises, so if your student is not used to self-pacing their work, you may want to help them plan out how much to accomplish each week to make sure they finish in a year.

This book would be excellent for a co-op or private school, as long as the students can be scheduled for both semesters, as it is really too much to try to cram into one semester. If you and your student follow the teaching in the book, I believe you will both be pleasantly surprised by the improvement in their writing, whether or not they ever want to write a novel.
From Emily (almost 15)
Writing Fiction [in High School]
By Sharon Watson is an excellent book to have if you want to learn to write, no matter what your age. It's fun to read, makes things understandable, and all of the exercises include sitting down to write.
Each chapter talks about a different, but important, part of your story. Parts like opening sentences to hook your reader, characters and their traits and attitudes, the position of your narrator (and what your characters do because of this), and different styles of writing, including fairy tales.
All of the exercises pertain to the lesson and build off of what you've already learned in that chapter. Plus, there are exercises to test what you know by having you pick out different parts from different paragraphs, from different books. It gives samples from different authors to compare them to each other as well as your own writing. This course has you start to read The Last Book in the Universe, by Rodman Philbrick, in chapter one and wants you to finish it by chapter four to use as a reference for writing throughout the rest of the book. The curriculum is written for groups and classes for you to get feedback from other people. But if you are doing it on your own, you will want to have at least one family member or friend to read what you write for both positive feedback and criticism.
To hear more about this curriculum, click on the Review Crew banner below! (Some of the Crew reviewed Sharon Watson's book for writing Non-Fiction.)