Are you a planner? Do you despise planning? Do you wish you knew how to plan? Do you plan but not follow through? Does your lack of planning leave you feeling like you're spinning your wheels? Wherever you feel like you fall on the planning spectrum, I want to invite you to learn more about The 7 minute Life Daily Planner that I have been using this past month. The planner is from The 7 Minute Life and was created by Allyson Lewis, author of The 7 Minute Solution. While reviewing the planner, I checked out a copy of Lewis' book from our local library. If you are serious about getting your act together, and getting organized, I highly recommend reading the book, or watching several of the videos on The 7 Minute Life website. If you want to jump straight into the planner, you can see the the most relevant videos here.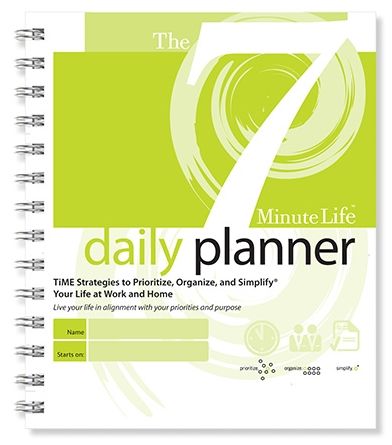 Let's back up, and I'll tell you a little bit about why I wanted to review this planner.
I needed help. I have gone through stages in my life when I've been super organized, and others where I've literally spun in circles all day... and then I'd get organized again, and then life would step in the way. I wanted to see if this planner, which I believe was originally designed for business people, could work to help me get myself organized for the new school year. Let's face it, Moms juggle a whole lot of schedules and responsibilities whether you have one kid in school, or six. If you own/run a business, or work part-time (or more) or want to homeschool your children, the schedules just keep piling up. How do you organize the seeming chaos into something you can actually work with?
I had been seeing my slightly organized life unravel all Spring and Summer. First, Kurt was sick, then he needed to have his gallbladder removed, then 4-H season hit with full force, and I felt like I was treading water. The problem with treading water is that you can only do it so long before you sink. I didn't want to sink, and our back-to-school schedule was rapidly approaching. What to do?! Then, the opportunity to review The 7 Minute Daily Planner came along. Thanks
Allyson Lewis
for the lifesaver thrown my direction!
This planner covers 90 days, and costs $24.95. Don't balk at the price, I found it to be worth every penny, and it comes with a money back guarantee. The planner is 7.3" by 8.5", and has so much more than any other planner I've ever seen... and trust me, I've seen a lot of them. (A side note to home schooling Moms, this planner will NOT organize your student's lesson plans, but it will organize you!) I really like the smaller size of the planner, because it can go with me. My larger 'appointment keeping' planner sits on the desk, but it's too big to take with me wherever I go. The 7 Minute Daily Planner has a lot of unique features, and if you want to see some of the pages close up, you can download sample pages to look through from the tools tab on the website.
This planner is lime green, ok, maybe that's lime with a touch of kelley green mixed in, so while it wasn't my favorite color, it was always easy to spot where I left it. It has a sturdy plastic over cover, paste-board weight covers with pockets, along with a double-wire binding. It is designed to go with you, and it has held up remarkably well. The planner is designed for adults, not kids. If you have a High School Junior or Senior who also has a job or micro business, they might want to check this out.
The beginning pages (5-19) explain how to use the planner, and then there are specific pages for prioritizing what is important to you, discovering your purpose in life, setting both 90 day personal and work goals, and pages for financial and life goals. Then come several pages for unfinished tasks... you know what I mean, the stuff that floats in and out of your brain and distracts you from getting today's work done today. For me, this was a great place to start decluttering my brain, as there are several things that need done later this month, or next month, that I needed to get off of my radar in August so I could stay focused. These pages are divided into unfinished work tasks, or home tasks. This can be where you write things like: dig canna bulbs, mulch the trees, insulate the windows. Items you know you need to do, but don't need done this week.
After that come 12 undated monthly calendar pages. This planner is designed to work by the quarter (90 days) but realizes that some of your plans will be longer-term. It also has 90 day and annual calendar pages (much smaller boxes of course.)
Next comes the heart of this planner, daily progress report pages that are divided into several sections. On these pages, I adapted some of the more business-focused sections to better meet my own needs. The first section is the daily contacts list. Think of this as making calls/ sending emails to business clients. I appropriated this section into prayer requests. At first, I was covering the title with Washi tape for each day, then I moved on to just using my correction tape to re-label the section. Next to this comes the true heart of this planner, the "What will I do...5 before 11" section. This is the area where you prioritize the 5 most important tasks to get accomplished each day. (FYI- you are supposed to fill this out the night before, right before bedtime, so you make sure they are really your priorities.) I will admit, that even though these are supposed to be done before 11 a.m., I work nights, so these were my 5 before 11 p.m. tasks.
There are also sections for daily appointments, unfinished tasks, life connections, thank you notes, and voicemail. Plus, a lined section just for daily notes. Each day has a two-page spread. The planner has a few pages just for notes, and some meeting planning pages. After each 30 days of daily pages, there is a monthly progress report with a page just for notes for planning the next month.
If you are in business, you are going to adore this planner. If you are a Mom or Dad who needs help getting organized and staying organized, you should want to get this planner ASAP. If you never do anything, and have no goals in life, then this is not for you. I think many people will realize how much smoother their lives run when they prioritize, organize, and simplify with The 7 Minute Daily Planner and will get it again and again. Right now, I'm thinking about purchasing another copy when this one is almost finished. I've been reviewing it for almost 6 weeks. I spent the whole first week reading and re-reading the introductory pages and working on the goal setting sections. You really DO need to take time to work on these, even if you can't fill in all the blanks, you will have a plan to start with.
This is an undated planner, so you can start any day of any month, of any year. Another bonus of the undated part, if you are going to be gone (let's say vacation) and don't use it for a few days, you haven't wasted any pages. If life were to interrupt in a major way (major medical emergency or a storm takes out the power,) you can still go right on with your planner... or you can take a few days off. If you've been faithful to write down your unfinished tasks, you won't lose them. They'll still be right there waiting for you.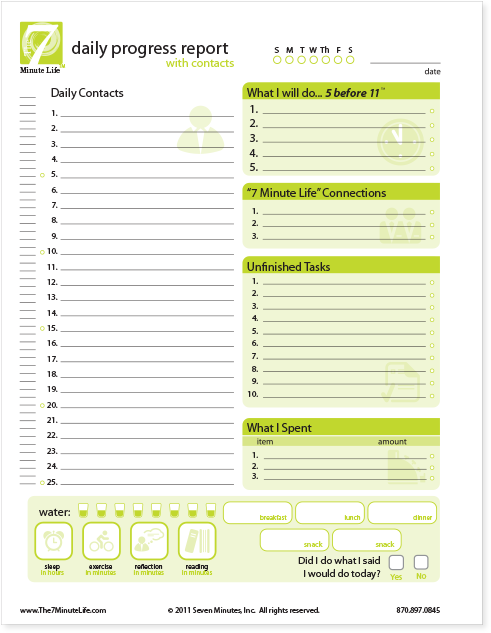 A critical point this planner has in its favor are small checkboxes next to the lists, and a section at the bottom of each day to keep track of your water consumption, sleep, exercise, reflection, and reading time, and what you ate (3 meals plus 2 snacks.) Then comes the most telling part of each day "Did I do what I said I would do today?" with two small boxes, yes, or no.
This planner has helped me turn my large goals into daily micro-tasks that can be done one at a time. It has helped me find what I should be focused on in the midst of the chaos, and set myself on the right path to accomplishing more goals. One of my favorite sections is on the daily progress report. It is the "Unfinished Tasks" section. It lets me keep a running list of what didn't get done that week that still needs completed. An item that might not make my 5 before 11 section on Monday, usually gets put here because I know it needs finished by Thursday or Friday. I have taken all of those various to-do lists from around the house and put them all in this portable book.
Does it really work? Oh yes. On the days when I didn't plan the afternoon or evening before, I found myself waking up without a plan, and not much got accomplished. On the days where I spent 5-7 minutes planning, a lot got accomplished. I still have a lot of unfinished tasks on those beginning pages, but I have a planner that is helping me stay organized. I think you should get yourself a copy and get organized yourself!
If you're still on the fence, I challenge you to watch the videos and download the sample pages. I think you'll be quite happy you did!
You can learn how the planner worked for other members of the Schoolhouse Review Crew by clicking the banner below.