Are you looking for a meaningful gift for someone's Birthday or Christmas present? We have found your answer with a Personalized Framed Plaque with Name Meaning and Bible Verse from CrossTimber. The picture above is of Arlene's name plaque from our review. Why choose a gift from CrossTimber? So many reasons, but here is my number one reason: almost every name in every spelling! John Dehnart has been researching name meanings for over 18 years, and his database is HUGE!
Perhaps you can relate to this personal tale: our oldest is named Emily, our youngest is named Arlene. Try to find a personalized gift (like a magnet or mug) for Emily - no problem. Try to find anything that has Arlene's name, spelled as her name is - a major undertaking! The grandparents have been faithful to find (or special order) things for her over the years, but its not like you can just walk into any gift shop in whatever city you vacation in and find her something with her name on it.
Enter CrossTimber.
John Dehnart and his sister began their printing business when John was 13. His love of name research began during a break from his normal homeschool routine when his parents enrolled him in Driver's Ed. CrossTimber is a family business and our order came with a great newsletter telling about the business and how it has grown over the years. They do more than name meaning gifts, but for now, let's focus on the wide variety of gifts they have available.
A common concern when choosing gifts is to find one that is unique, a gift that won't be like anything else opened at the party. Cost can also be a real factor when considering a custom gift, as many companies either want you to order at least a dozen items, or they assume you have a budget of $50 per gift.
They offer name plaques (framed like Arlene's) or name prints that you can give unframed or frame yourself (a great option for large families.) CrossTimber
also offers the option of ordering the printable file emailed to you, that you would then print locally - an ideal solution for those who live overseas or are in a rush to get a gift before a special day. Some people want a truly unique gift and might choose a personalized mug or music box. I think a music box with your name meaning would make a wonderful gift for a milestone like High School graduation or a special birthday! How many people have a spouse or friend who just loves coffee? Wouldn't it be awesome to give them a mug with their name, name meaning, and Bible verse on it to start their day with?!
On the CrossTimber website you can choose from over 150 background designs. If you are ordering a name plaque you can choose from four different frames, and then see how it will look with that background. You are also given the option to leave it up to the artist's choice. For Arlene's name plaque we opted to pay the $2 uncharge to get the Ornate Frame because she liked how the detailed frame went with the Irish Celtic Cross design she had picked out.
If you are ordering these name plaques (framed prints) as a gift, I understand that you're probably not going to be asking the recipient which design they like best beforehand like I did with Arlene, but since there are so many options, and you can search them by theme, you should not have any trouble finding the perfect one for your gift!
Once you've decided on your name gift, you'll have the option to add extras, like bookmarks, greeting cards, or pocket cards that match. On our order, John and Katie were kind enough to send us pocket cards (laminated) for Arlene, matching her name print, and one for me. You can see them in the picture below that also highlights the detail on Arlene's frame.
I hope by now you are intrigued and have thought of some people who you would love to give name gifts to. Before you click over and start ordering, I want to let you know about a couple of the other name gifts that CrossTimber offers. They offer Multi-Name plaques where you can have two names in case your recipient has a double first name or you want first and middle names like: John David or Elizabeth Ann. They also offer their Multi-name plaques with your Surname. How cool would it be to get your Parents a Family Name plaque for Christmas and then offer bookmarks or pocket cards as gifts for your siblings?!
So what if you LOVE the idea of getting a personalized name gift for someone's birthday or Christmas, but your budget is super tight? CrossTimber has a website JUST for ordering name bookmarks. Beginning at $3.99 these would make economical yet wonderful gifts. Think ahead to next year, as they have bookmarks with Graduation themes! Order more than one at time and save on shipping. :)
Back to the original Name Plaque that we ordered for Arlene. When I knew we would be reviewing for CrossTimber, I wanted to see name meanings for each member of our family. I emailed John at CrossTimber with our names that evening and he responded the following morning. You can also click the live chat button on the bottom right corner of their website. The customer service was excellent. Arlene's plaque arrived well packed in a very short time via USPS Priority Mail. CrossTimber is located in Ohio. By searching around on their website I learned that the state motto of Ohio is "With God all things are possible."
If you are looking for a gift, but not sure you want a specific name on it, they also offer Names of God plaques and custom Bible Verse plaques. Both of these would make a statement as wall art in a schoolroom, Doctor's office, or Sunday School room. They also offer great discounts on multi-item orders!
CrossTimber offers a full range of business printing and graphic design services, as well as website design and voice-over work. This homeschooling family from SouthEastern Ohio is meeting needs of businesses large and small, as well as providing wonderful name meaning gifts. The Dehnart family has just made a HUGE announcement, and I think you'll love watching the video here on their name meaning page.
Excited to see what CrossTimber has to offer? Great! Ready to order? Even better!
Want more exciting news? CrossTimber is offering a Giveaway with one Grand Prize Winner receiving their choice of a Name Mug or Name Plaque and nine runner-ups receiving a $10 Gift Certificate. Click on the image below to enter the giveaway!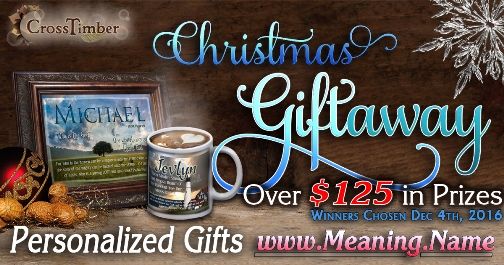 They are choosing the winners on December 4th, so if you win you'll still have time to order for Christmas!

Connect with CrossTimber on Pinterest or Facebook
To read the other Crew Family's reviews, click the banner below!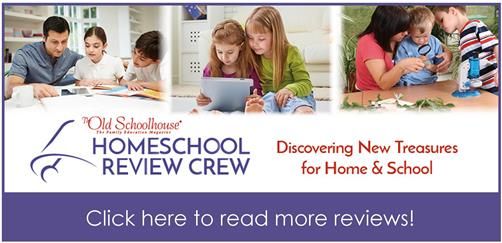 Save
Save