If you are anything like our family, you take oodles and oodles of pictures every year... but unless it's Christmas or 4-H season, you hardly ever print them. What do you do with all those great pictures that capture your memories? Well, we made a yearbook!!! The Schoolhouse Review Crew has been on assignment for Picaboo Yearbooks and we were blessed to be a part of the review!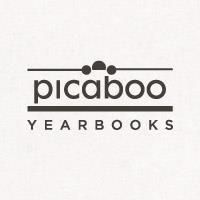 First off, the price was good, then I realized all the options available on the online software (that you don't have to pay extra for) and I realized the price was great! For the review, we created, and Picaboo printed & shipped an 8.5 x 11 inch, softcover yearbook of 20 pages. The 20-page Soft Cover yearbook retails for $8.49 (no, seriously- ONLY $8.49) and shipping options vary depending on how soon you want it & where it is shipping to. We received ours Priority Ground, which costs $10.99 for the first copy, and $3.49 each for copies 2-8. If you are ordering for a group (like a co-op or your son's baseball team, they have special pricing on orders of 10 or more, and free shipping on orders of 50 or more. There is also an Economy Ground shipping option which is $8.99 for the first book, with discounts on shipping 2 or more copies.
I have to say, this was one of MY favorite reviews this year. I love taking pictures, but often don't get many of them printed. Life gets in the way, or I can't make up my mind which ones to print...so they sit on my computer. Because we got to make the yearbook to suit our tastes, I had a lot of creative freedom to use my photos and make something unique. I had heard mixed reviews from my friends about Picaboo before this review. Let me lay to rest your concerns, this is a quality product. While it might be possible to get a higher quality product elsewhere, I really don't think you're going to find one this good anywhere near this price range! This is a vendor we will be coming back to again.
Let me tell you a little about how this whole process works, and then I'll share some ideas of how it might work best for your family or group.
It is important to note, Picaboo's online software uses Adobe Flash, so you'll need to work from a standard computer, NOT a tablet. Go to the Picaboo website and create an account. Give your yearbook a name, a year, and enter your shipping info. Estimate the number of pages you will want, and when you think you'll finish. THEN, choose the size of the pages--- the page size cannot be changed later, but just about everything else can be changed. For the review, we did a 20 page, 8.5 x 11" soft cover book. We had about 3 weeks to design and edit our books, then we sent them (approved and ordered) on to be printed and shipped.
Watch the tutorial video!!! This is the best use of 20 minutes you can make. Once you've watched the video (even through the parts you don't think apply to your situation,) you will be ready to get started. As you go along, Picaboo will adjust the price if you need to add additional pages. To use their pricing calculator, and find out about personalized pages for large groups (like your school) use the pricing calculator and watch the videos here.
On to the nitty-gritty. If you are like us... where Arlene and I can easily take 5000+ pictures in a year, the best first step is for you to use whatever photo editing software you have (we use iPhoto) and make a folder of the pictures you *might* want to use and label it Picaboo. This saves time when you're actually in the software. Since we knew we were only going to be making a 20 page book, we chose about 200 of our favorite photos from the past 12 months. Also, if you are certain that you want to crop your photos, consider doing this before importing them to Picaboo.
The first major step inside of the Picaboo software, is deciding how you want to divide up the sections in your yearbook. I wrote 1-20 on a piece of notebook paper, and decided how many pages each "topic" would receive. One of my friends on the Crew just made hers with one 20-page section. It is possible to move the sections around in order, but not change the number of pages in a section. Of course, if you get all messed up, it is fairly easy to delete the section and start over again.
I started with the cover. We chose some of our best quality pictures for this section. You select "add pictures" and wait a few minutes while they upload to Picaboo. I never did more than a few at a time, because the one time I uploaded 18 pictures at a time took several minutes. (I went in and started prepping dinner while I waited.) This is an example of a wraparound cover.
The left is a 1 page section, the right is the first page of a 5 page section
On the regular sections, you can choose freeform or portrait. Since it was just us (and not for a co-op or school) we chose freeform. This still allows you to use their templates, but doesn't look like your 8th grade class pictures. :) I used some of Picaboos backgrounds (there are thousands,) but on most of our pages, I picked one of our photos to use as either a one-page or two-page spread background. It took me a little while to get used to the moving and rotating tools, but they were't difficult to learn. On pages where I knew I wanted a lot of pictures, I used one of their templates that looked like class photo pics, and then adjusted all the sizes once I had the pics on the page.
As you are doing each page's layout, pay attention to the yellow "warning - crop zone" messages. Some of these get cropped during the printing process, but not necessarily all of them, so I would suggest you leave a margin around the page edges. I had one that I didn't notice during my reviewing & locking the sections. It ended up cutting off the people's feet in the picture (better than their heads-LOL), but it was no great loss in the grand scheme of things.
On the softcover yearbooks, there is no printing on the inside of the covers. If you're making these for your co-op, this would make an excellent place for students to sign each other's books. At the end, you will choose whether you want a Matte or Glossy finish. We chose Matte (to hopefully cut down on fingerprints!) This 20 page yearbook can carefully be slid inside a standard sheet protector, which is how I've been carrying it around to show to our friends. At home, it sits on the shelf next to my husband's old High School yearbook.
Inside the front cover
Inside the back cover
You can add as much, or as little, text as you want. We chose to not add much. It is possible to add text to the spine of the cover, but Picaboo doesn't recommend it because it's so hard to get the little type on the spine. I made our type larger, because I expect to make at least one every year, and this will help me find the right one on the shelf. The text boxes have dozens of fonts and colors to choose from...experiment to see what you like best.
A couple other fine-tuning points. Choose only your sharpest photos for enlarging to full-page size (like backgrounds.) Ours were fine, but I also use a high-GB chip in my camera so I can have great resolution. The pages will be numbered in the outside bottom corners in black. So sometimes, you may not see them on the page depending on what you placed there.
Don't be afraid to showcase your favorite photos! Crop and resize as much as you want. We had about three weeks to do ours because of review timeline constraints, but you should take as much time as you want or need. Since the maximum time from ordering to door in the continental US is 3 weeks, don't feel rushed. We chose LOTS of our favorites to highlight. After all, how many kids get a picture of them and Mario Andretti in their yearbook?!!
If you're thinking about making a yearbook for a group or school, you're going to want to investigate your options. There are ways to have a student gallery, and upload pictures directly from your school photographer. If you're making a group or school book, you can also assign roles of contributors and administrators to various individuals, and they can work on the appropriate sections, while still needing your final approval before the book is printed. I can see this being a great class-project for a co-op, or how much easier this would be than the yearbook process when I was in school. (This is so much easier than even the monthly newspaper was back then!)
There is also the option to set up a 'store' with your yearbook and accept orders from family members, or group members. If you're doing a group or school book, contact Picaboo and they can help you set yours up as a fundraiser with a small profit margin. Since you only order what you need, your school never has to go in debt over a yearbook again. (What would my High School teachers think about that!?)
Some final thoughts...
This would be SO AWESOME (and affordable) for your family, your son's baseball team, your daughter's dance class or band. What about your church? How long has it been since you had a directory done? I know there are professionals that do these, but most small congregations just don't have the time or resources for those companies. How much did your homeschool group spend on this year's yearbook? Consider using Picaboo for next year.
We are planning to start now and work on our yearbook for next school year. That way we won't feel rushed. I think we'll make each section as we have an idea figured out in our heads. I can see this turning into a particular high schooler's yearbook elective course can't you???
If you're making a school-sized yearbook, there is an option for each student to make up to 4 individualized pages to be included in their yearbook. How cool is that? So include pictures of you & your friends from Homecoming, a shot of you at summer camp, or your family photo with Grandma & Grandpa along with your other memories.
I went back and looked through some of my High School yearbooks to compare quality. This book from Picaboo was better...and didn't cost $50 or more (more like $75 today.)
Like I said before, this is a quality product for the price. Several Crew members mentioned that they were going to purchase additional copies to send to their families that live far away. Picaboo does have shipping options for Canada and overseas. Since the software is online, consider the possibilities. The missionaries from your church could contribute to your book, or even make them and have them sent to donors. The options are truly endless!
We took our book with us to 4-H judging this week and showed it to a couple friends. They liked it too, especially the price vs. quality aspect. They are planning to tell their friends and family about Picaboo. I know there are other places online to make a photo book, but this has SUCH great customization (not to mention the options of multiple contributors) that I think it is an all- around winner!
Click the banner below to read all the reviews!