Have you ever wondered how much your child actually retains from their science lessons? I have. Just a few weeks ago, we received One Minute Mysteries: 65 More Short Mysteries You Solve With Science to review. I was pleasantly surprised by how many of them Arlene could solve using what she has learned from our various science lessons over the years. This 160+ page softcover book from Science Naturally retails for $9.95. It actually contains 70 mysteries, the 5 bonus ones in the back are solved with math.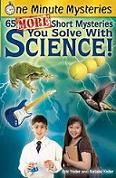 This fun book is designed for ages 8-12. If your kids are younger (6-7), you might want to try solving the mysteries together. Many 8-12 year olds will be able to solve many of them on their own. When the book first arrived, we read the mysteries out loud, then Arlene stated what she thought the answer was. Then we would turn the page to see if she was correct. She got 3 of the first 4 correct right off the bat. Then, I went to go make dinner. Arlene took the book and went to read some more. By the time dinner was over, she had solved over 20 of the mysteries. Arlene is almost 13, so she probably was a little faster than some kids, not just because of her age, but because she has always loved science and the outdoors!
We were intrigued to find out this was the third book written by the Father-Daughter team of Eric and Natalie Yoder. Their first 2 books, One Minute Mysteries: 65 Short Mysteries You Solve With Science and One Minute Mysteries: 65 Short Mysteries You Solve With Math were written when Natalie was a Middle Schooler, and then a High Schooler. These books have won several awards, one of the most notable is a recommendation from NSTA (National Science Taechers Association.)
For a limited time, you can order all three of the books online for $19.95 plus $2.95 shiping with the code: 3SPEC. That is a savings of $12.90.(They have other science books as well that can be included in the 3 book special, check out their website www.ScienceNaturally.com for details!)
These books would make a great dinner or lunch time read-aloud for the summer. They would be perfect to keep in the car, so you would always have something to work on together while waiting, whether for someone to get done with baseball practice, or, in our town, while waiting for a train!
Arlene has already asked for us to purchase the other two books, because this one was a lot of fun! Adults will also find themselves intrigued, as some of the solutions are ones we could be using as well!
If you or your child struggles with solving the mysteries, maybe it's time for some review.
We recommend you get this book, or others from Science Naturally, for your whole family to enjoy, you'll be glad you did!
To find out what other Crew families thought about the book, click the banner below!