How can you encourage your teen/ adolescent daughter to find her true worth in God? Where do you point her when she's wondering what her path should be? Sarah Clarkson has written a lovely devotional book entitled "journeys of faithfulness: stories of life and faith for young christian women" to go alongside your daughter's Bible reading. I can see this new book from Apologia making a huge impact on our current generation of young women. Whether in her teen years, or early 20's, this book would make an excellent Christmas or birthday gift for a girl close to your heart. It's a great read for older women too.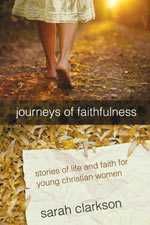 Here's why: each chapter begins with an expanded story of a Biblical woman and her personal struggles. Ever been a Mary in a Martha world? You may shed a few tears of relief during this first chapter then. I know I did. As each story is expertly woven, you feel the hurt, anguish, pain, and uncertainties of each person. Then you see how Christ steps in and shows them love. His love, and how to share it with others. How their worth comes not from things of the world, but from a heart surrendered to God. How a small amount of faith can overcome mountains of doubt.
Sarah Clarkson does a wonderful job of keeping the charcters Biblically sound. She weaves in history and cultural norms of the person's time to help explain the story. The stories are not "hokey," but beautifully written.
After each story, Sarah shares a devotional with a story from her own life. A self- examination that showed her how God was being faithful in her life, just as He had been in the people's lives in the Bible. Then, there is a Bible Study focusing on the attribute of God the Biblical story revealed. Finally, each chapter ends with a few pages for journaling. A place to reflect on what God has done in your own life, or record your own story.
If your daughter is in the younger age range, this would be a great read-together, study-together book. Older girls and young women will probably want to read, study, and journal on their own. This book will become an outpouring of their own hearts and lives when they're finished.
During the review, Emily read the book on her own, then we discussed several of the chapters. She wanted me to read it as much as she wanted to read it herself. She liked the format, the expanded stories, and the encouragement. I liked that it is a book we will discuss more and more as time goes on.
Here's Emily's review of the book:
Journeys of Faithfulness is a young woman's devotional about the everyday lives of some of the women in the Bible. It talks about Mary & Martha, Queen Esther, Mary the mother of Jesus, and Ruth. Each section starts with a fictional story based off of the Biblical stories of each woman, followed by a real life story from the author, a devotional with questions about the section and such, and then a 'Journey Journal' to record thoughts about the lesson. There are three sets of these in each of the 4 parts of the book. The stories are well written and easy to relate to, and help you understand the woman in the Bible from a different perspective. It is very good and helps you feel closer to God by understanding His purpose for your life.
I wish I had this book, or one like it, when I was a teen. During those years when you're struggling to find out how to live this Christian life in a world gone crazy. Where you're trying to find your worth in God when the world tells you that you either: A- have no worth, or B- only have worth because of "things." This book speaks to hearts, where faith begins and grows.
If you're still not sure, read the sample chapter, I think you'll be wanting more!
So go get this book, at only $13, it'll be one of the best things you do for your daughter. Then pray that God will show her how her worth comes from Him, and how precious she is!
As members of the TOS Crew, we were provided a copy of the printed book in exchange for an honest review. All opinions are ours.
Read other crew reviews by clicking below: