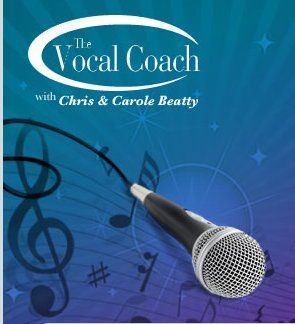 What do you do when your children ask for something, and you'd love to give it to them, but it's just NOT in the budget??? You look for an alternative. If your child has been wanting voice lessons, THIS is your alternative!!!
Vocal Coach Singer is a truly AMAZING program. It comes as a 12 disk set for $119.99, or as MP3's and PDF downloads for $99.99. Our daughter has volunteered at Conner Prairie, a local living history museum, for the past 3 seasons. She has been asking for voice lessons for about that long too. While there are basic lessons given by the staff at Conner Prairie, that would require us to make another trip (25 miles one-way) for each training. We've wanted to give Emily something to help her learn to modulate her voice, and learn how to not lose it while talking all day. Vocal Coach Singer was a blessing! Just what we had been looking for.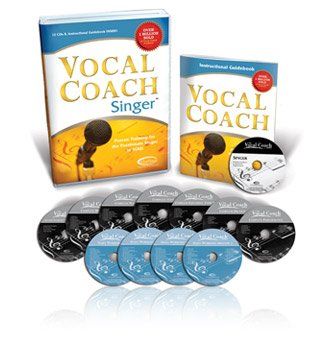 Emily has been working on the warm-up exercises for about forever it seems, but I can tell that she is getting MUCH better at her breath control. On a side note, because Vocal Coach stresses good posture, she hasn't been slouching as much. (Something I'm sure our Chiropractor will appreciate!)
So what does the program do? It takes you step by step (whether you're a teenager or an adult) through learning not only how to properly warm up and learn to sing in your range, but it teaches you how to maintain your voice as well.
There are practical uses for this course, which make it a family investment, not just one for the singer or actor in your family. The coaches suggest it for singers, actors, business people, AND home schooling parents! Think about how nice it would be to not be hoarse at the end of the day after teaching all your children!
The 12 discs include 7 Training CD's, 4 Workout Cd's, and a CD Rom of PDF's. These PDF's include lead sheets for the training exercises, lists of which exercises are on which disc, and journaling sheets to keep track of the time you've spent and your progress. On their website, Vocal Coach states that this program is eqivalent to over $2000 worth of individual coaching time. After googling local voice lessons and finding out they range from $40-$60 an hour, I'm sure it is worth much more than that!
Now I know, you're thinking, 'I have a friend who gives lessons that aren't that much an hour.' Guess what, we do too! But when you realize that at even $15 an hour, we would have spent $60 a month minimum for Emily to have voice lessons, you can hopefully understand the value of the complete 12 disc set only being $119.99!!! That's only about 2 months' worth of one-hour a week lessons. These are lessons you or your child can do AT YOUR CONVENIENCE! So, while waiting for the pasta to boil for dinner, or while waiting for Dad to get home, your child can fit these in whenever they have time...and the best part? You don't have to drive them anywhere!
Think about it, does your family like to sing together? Do you visit nursing homes or shut-ins from your church? Learn how to give your best performance, while preserving your voice and being able to spread more joy!
Emily was so disappointed when she caught a cold and had to take two weeks off from Vocal Coach Singer during the middle of the review. I believe what she had learned in the first two weeks helped her to recover her voice more quickly because she was aware of what straining it would do.
Here is a snippet from Emily:
Vocal Coach has been a really helpful program. It has helped me with my job at Conner Prairie, where I work as a youth volunteer, because I have to talk almost continuously throughout the day. The Vocal Coach CD's talk about range, breathing, posture, and other things, having exercises to help with each thing. It has exercises to help give you good posture, and therefore correct breathing, and to help you talk longer with out wearing out or damaging your vocal cords. It is good for everyone who uses their voice a lot. Not just singers and choir members, but also speakers, professors and teachers, tour guides, lawyers and judges, homeschool parents, and others. Its roughly 2 minute exercises help you to be able to use your voice longer, project farther, talk louder, and, if you like to sing, sing better. All without wearing you out. The teachers explain why the exercise are important and explore different ranges of voice, and have exercises for all the ranges, so as to help everyone.
So, do you have a singer, actor, public speaker, or teacher in the family? This is a product you'll be so glad you saved up for!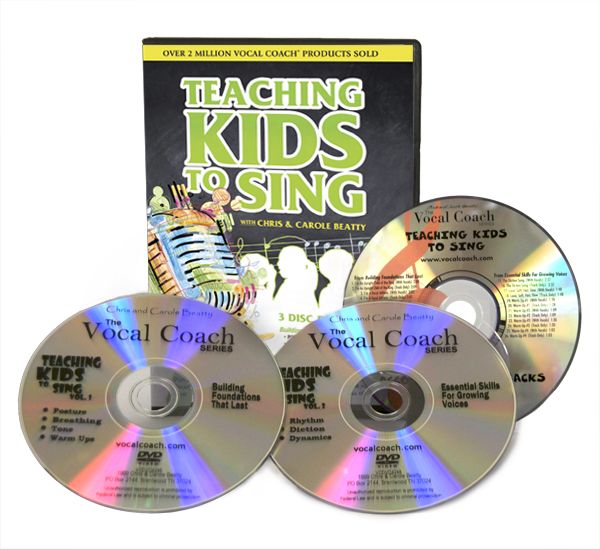 Vocal Coach also has a 3 disk set for children to learn from.
You can read about that, and find more reviews of Vocal Coach Singer by clicking the banner below!

We've reviewed a lot of products for the TOS Crew this year, this is definitely in our top 5!
As members of the TOS Crew, we were provided a physical set of the 12 disc "Vocal Coach Singer" program at no cost in exchange for an honest review. We were not compelled to write anythig positive. All opinions are ours.