They say a picture is worth a thousand words... let's see if that's true. Read this week's post with your eyes...and your taste buds! This week's challenge from Michele was to sort, purge, and organize your recipes & cookbooks. Compared to some of my friends, yes - I'm talking about YOU- Sharra and Diana, we don't have very many cookbooks. However, we did find a lot of random recipes. Arlene had already been organizing her share of the recipes into a three-ring binder with sheet protectors, so now it was up to me to sort & purge the rest. Since I know there are some recipes I'll just never get around to making, I tried to be honest. A lot of those free-handout recipes from the grocery stores hit the trash can.
Arlene helped me by pulling all the books off the shelf, throwing away those that were obviously not staying (like the one I made in fourth grade,) and cleaning the shelves. Then the tossing really began. In the midst of it all, we realized there were a lot of things on the cookbook shelf that needed to go elsewhere. We also combined the two recipe files into just the larger box. Recipes that have been printed from online sources go into Arlene's three-ring binder. She like to keep them in sheet protectors so she can use a dry erase marker as she goes through the steps. Hint- only use black markers, because the other colors are harder to wipe off when you're done. If you're really nice, she might share her copycat Texas Roadhouse rolls recipe with you!
While we were cleaning, we ended up with a pile of owner's manuals that needed moved to the correct bookshelf. We also found a handful of heirloom cookbooks from my Mom and Grandma that we want to preserve. They will stay in better shape if we find them a safer home than right under where we crack the eggs - KWIM? We also set aside five cookbooks that are still in decent shape to giveaway... who wants them? If no one comments about wanting them, we might need to host giveaway soon!
When we were finished, that corner of the kitchen was much improved! You can actually see the book holder Arlene made for 4-H a few years ago, and the Betty Crocker Cookbook (our mainstay) doesn't look like its going to fall off the shelf and attack.
When Arlene and I first discussed this week's cleaning task, she came up with the brilliant idea for everyone to share a recipe they found while cleaning. Michele was OK with the idea, so be sure to read everyone's linked posts over on her blog to get some new favorite recipes!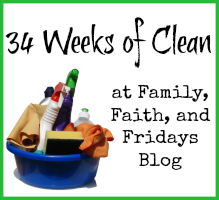 Our recipe is simple, and delicious... Oatmeal Raisin Cookies! FYI- we usually make a double batch, Arlene made them this week, and made each cookie triple-sized. Feel free to make them whatever size you want, Kurt called this batch "man-hole covers."
Heat oven to 375 degrees F. Cream sugar and butter, then mix in ingredients down through egg. Then stir in oats, flour, and raisins. Drop rounded teaspoonfuls 2" apart on engrossed cookie sheets. Bake 9-10 minutes, until slightly golden brown on edges, but not hard. Cool two minutes, then remove from cookie sheets. Makes about 3 dozen - 2" cookies.
Don't forget to come back next Friday to see whether or not I actually get the oven cleaned- LOL!