Here is Arlene's review of the workbook, I'll have more thoughts from me at the bottom. -Carol
The "I Don't Have Enough Faith to be an Atheist" curriculum was written to go with the book "I Don't Have Enough Faith to be an Atheist" originally written in 2004 by Norman L. Geisler and Frank Turek. The study guide was drafted by Chuck Winter and finished by Frank Turek, one of the original authors, in memory of Chuck Winter who died soon after the first draft.
The study guide has 4 different sorts of questions -
Hook: this section reminds you what you read from IDHEF
Book: this section gets into the specifics
Look: this section has things to do like research papers.
Took: this section summarizes what you learned in the chapter.
One of the Hook questions in the introduction (yes there are questions in the introduction, you don't get to skip it) is: Without God does life have any ultimate meaning? why, why not? and I put :
No. If there is no God you live you die. There is no point to live and then die, no special goal to live for. If there is a God then there is a heaven, something to look forward to when you die. Unfortunately, if there's a heaven then hell is real too. Conclusion: even though God is real, if you don't live for him its pointless.
Wow, what more encouraging thing can you say about a book & study guide than that conclusion? If you don't live for God, life is pointless. Are you praying your children learn that lesson, or are you needing to learn it yourself?
If you're looking for something challenging, for an adult, or a student, this is the right book. Apologia has many good resources to choose from for Bible Study/ Devotional/Apologetics, but I'd have to say this is one of the most involved. Will your twelve-year old get as much out of it as an adult would- maybe yes, because God can move in hearts that are open to His teaching, whatever their age. The study guide was designed for High School age and above, but can be used by Jr High aged students (with some help.)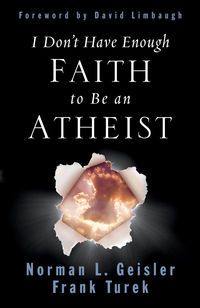 Grounding our faith in the truth we find in God's Word is of utmost importance to
our
daily walk, but adding an understanding of how to communicate our faith to others is of importance to
their
daily walk (& their eternal destinies.) My husband and I are of the opinion that any book from Norman Geisler is a good one. So we were excited about a workbook to go along with 'IDHEF.' (Find the book here.) We gave it to Arlene to use during her morning study time, (with some reluctance from Dad, because I think he wanted to read the book!) and she got right to it. This book followed her around the house, which doesn't usually happen with non-fiction books, and she spent quality time reading & answering the questions. Now that she's done a few chapters, we have more to discuss. We want our children to be able to defend their beliefs, and hold fast to them in the future, whatever comes. Faith in Jesus has to become their own, not just something they parrot because it's what Dad & Mom say and do. How are your children doing on that transition to make a personal choice for Jesus? Help them with this walk, don't expect them to go it alone, the pull of the world is very strong, they need good, solid roots to stay grounded in Jesus.
One of the parts I liked about the study guide is the series of "mini-biographies" scattered throughout. Who are these scientists, philosophers & social leaders who have impacted the world? What were their worldviews and how did those views affect their work & lives? How did the belief or absence of a belief in God as Creator affect Carl Sagan, David Hume, Edwin Hubble, and Isaac Newton? Do you wish you knew? (Buy the book & study guide to find out!) Find the workbook here.
Invest some time and money in defense of your own faith. At $33, the study guide is truly an investment, but a worthy one. What will you say the next time a fellow student or co-worker asks you "Why are we here?" Be prepared, study, learn, and trust God for the words He wants shared.
Remember that key verse from AWANA- 2 Timothy 2:15? "Do your best to present yourself to God as one approved, a workman who does not need to be ashamed and who correctly handles the word of truth." This is that kind of work, one that edifies your faith and allows you to correctly discuss God's truth with those around you. Then you too can be ready as 1 Peter 3:15 tells us: "But in your hearts set apart Christ as Lord. Always be prepared to give an answer to everyone who asks you to give the reason for the hope that you have. But do this with gentleness and respect."
Don't be afraid to share your faith. Don't live a pointless life.