Many of you may be familiar with Home School Adventure Co. because of their Philosophy Adventure curriculum. Arlene and I had the chance to review one of their other great products, the Mere Christianity Journal. This journal is full of questions to help you process and discuss the various parts of C.S.Lewis' Mere Christianity book. In case you haven't read Mere Christianity I want to give you a little background about the book, and tell you why I think this Critical Analysis Journal is such an asset.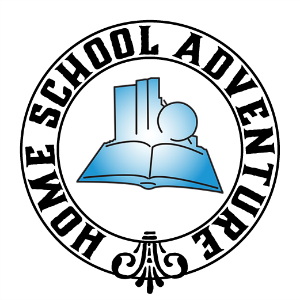 Lewis' book is a compilation of talks he gave on the BBC during WWII. He was asked (as a recent convert to Christianity) to speak to the British people and help them understand the basic tenants of Christianity. While these talks were geared towards offering understanding and hope in a time of war, they still ring true for Christians today.
Neither Arlene nor I had read Mere Christianity before the review, but we had both read several other books of Lewis' (Chronicles of Narnia.) I downloaded the Journal and printed several sections to get us started. The book form of Mere Christianity is divided into four sections (Book 1, 2, 3 & 4) and the journal follows along with questions for each chapter in each book section. We read two chapters in Mere Christianity, and then discussed and answered the questions in the journal. After that first day, we decided we should stop after each chapter and discuss and answer the questions one chapter at a time. None of the chapters in Mere Christianity are long, but because they cause you to think, and the journal wants you to put into words your answers, it's best to not rush ahead.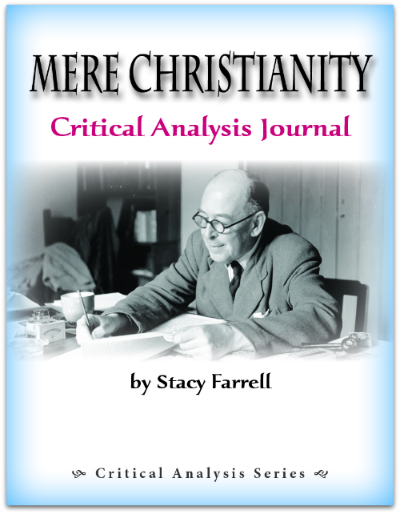 Arlene is almost 14, and could have done the journal all on her own, but I wanted to work through it with her. After just a couple days she said "Mom, you know I can do it on my own right?" Yes, yes, I know...I just wanted to spend time with my little girl. Then, Kurt became ill and I was glad it was something Arlene could do on her own. I still want to go back through the rest of Mere Christianity and the questions in the journal myself, but for right now, Arlene is moving along on her own.
While the journal is recommended for ages 12 and up with help, your High School student can probably do it on their own. For the 12-15 yr old group, you'll need to evaluate two things: first- whether or not they understand WHAT Lewis is talking about, and second-are they understanding the questions in the journal. I would recommend working on this together with your teen, especially if they are a new Christian. Lewis does a good job of explaining each topic, but we've found the information is retained better if Arlene and I discuss each chapter along with her writing down her answers.
When it comes to a journal, I prefer to print out the pages from the PDF and write with a pencil or pen, however, if you love to type your answers, you'll be glad to know that this Journal is an interactive PDF and allows you to type and save your answers right on your computer. The digital download PDF retails for $18.95. At 185 pages you'll be printing a while, so consider your options. Print it all, print a section at a time, or choose to enter your answers on the computer. If this seems daunting, print editions are available for $28.95 each.
You might want to consider using this journal for your small group, Sunday School class or co-op. The number of questions for each chapter varies, but it averages about a dozen question per chapter. I can see this being a great tool for a 'what we believe' type of study, either in a group of individually. If you use this Journal on your own, you will probably find yourself seeking out someone to discuss it with. It is though provoking and challenges you to look around you to see examples in your own life (& job) that relate to the examples Lewis gave in his talks.
The four books in Mere Christianity include: Right and Wrong as a Clue to the Meaning of the Universe, What Christians Believe, Christian Behaviour, and The Doctrine of the Trinity. Because these each build upon basic principles of the Christian faith (and become more advanced) I would suggest you check in with your teen at least weekly as they use this resource. Even if they don't have questions they need help with in the first part, they may well want help later on.
On a typical day (wait, our life is never typical...) ok, on most days, Arlene would read a chapter and then answer the questions in her journal. We would then talk about the section while making dinner, or while in the car running errands. I found this journal from Homeschool Adventure Co. to be an excellent tool to use alongside Lewis' writings to help the student understand the differences between world views. Just in the second chapter, Lewis gives examples that you can picture in your minds' eye that distinguish between Biblical and non-biblical world views. As your students learn to distinguish between the two world views, they can start to see where logical fallacies creep into many people's thinking.
I appreciated Lewis' description of progress - not just changing, but changing for the better. Using this journal is bringing progress, it is helping us learn to be discerning, it is helping Arlene dig deeper into understanding what sets our world view apart. If you are wanting to work on your own critical thinking skills, this Journal could be a great tool for you to use.
If you'd like to purchase one of the PDF downloads from Home School Adventure Co., they are offering a special 10% off through May 15, 2014.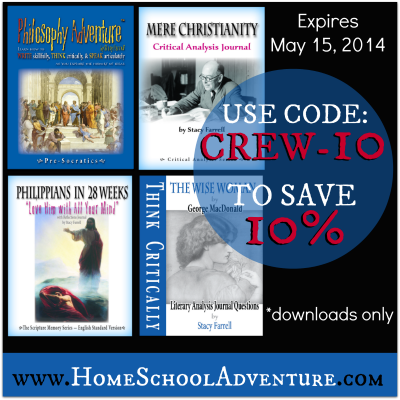 Crew members reviewed several titles from Home School Adventure Co., click the banner below to read all the reviews!