Do you have any 'Little House' fans in your family? We have a whole house full of them! So we were excited to be chosen to participate in the Schoolhouse Review Crew's review of DVD's from Legacy Documentaries. The Crew reviewed two different DVD's by Dean Butler and Legacy Documentaries: Little House on the Prairie: The Legacy Of Laura Ingalls Wilder, and Almanzo Wilder: Life Before Laura. We received the Laura DVD. If you'd like to read reviews of the Almanzo DVD, click the link at the bottom of this post!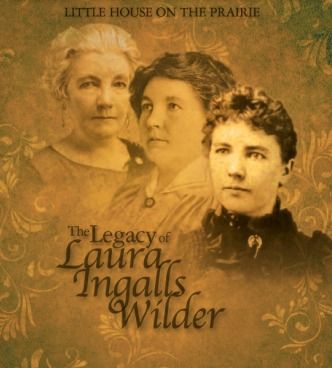 When it came time to choose a DVD to request, I let Arlene (age 13) our current biggest Little House fan choose. Since she enjoys the books about Laura's childhood, she chose the Laura DVD. I must say that all 4 of us (including Kurt) were impressed with the quality and depth of this video. The DVD is narrated by Dean Butler (whom many of you will remember from his days portraying Almanzo on the Little House TV series.) The DVD's main story runs about an hour, and is a skillfully crafted combination of narration, historic photos, animated illustrations (from the original illustrations by Anna Sewell,) and historic re-enactments. Most of the people portraying Laura and her family in the DVD are from the Laura Ingalls Wilder Historical Society in De Smet, S.D.
As the story of Laura's life is woven, and the story behind the stories in the books unfolds, there are also interviews with Historians and Biography writers who share about both Laura and her family, and what life was like during the time Laura was writing her books (the Great Depression and WWII.)
Since I've been reading Laura's books for decades, and grew up watching the Little House series on TV, it was quite fun to hear about the process that Laura's first book, "Little House in the Big Woods" underwent as it was written, rewritten, re-titled, and eventually published in 1932.
The DVD is not boring at all (unlike some documentaries,) yet rather, draws you into Laura's life, and her marriage to Almanzo that spanned 64 years until his death at age 90. I appreciated the focus on how Laura's books were published with a mind to entertain and inspire the children living through the Great Depression through stories of simple, hard-working American pioneers. I do not know what first inspired Laura to write her books, although many sources point to the passing of 'Pa,' but I am thankful that her publisher saw the value of sharing these simple, difficult, yet also joy-filled lives.
As a blog writer, I chuckled when I learned that Laura began her writing career as a columnist for the "Missouri Ruralist" writing her column "As a Farm Woman Thinks" for 13 years. That sounds a lot like blogging... before computers. Laura was a known authority on chickens, and she shared that knowledge, and other things, with her readers. I was also reminded that a lot of Laura's writing was edited by her daughter, Rose Wilder Lane, who was already a published magazine writer. (Kind of like when one of our girls proof-reads my blog posts-LOL!)
The Legacy of Laura Ingalls Wilder DVD retails for $24.95, and would make a quality gift for your favorite Little House fan...or the whole family! While this DVD is suitable for any age to watch, I would say that children 8 and up would probably get the most out of it. Of course, if you're done a family read-aloud of any of the Little House books, everyone will remember something from the book while watching, so keep your remote handy to pause the DVD when someone "just has to share!"
We watched the DVD as a family, and all of us, including Kurt, learned a lot. It appears his education suffered, as he never read any of the Little House books growing up. (We offered to loan him our copies!) My Grandmother saved a boxed set of the Little House books for me to one day pass on to our children. My Grandma's copies are from the 1970 edition. Yeah, that's right, she bought them before I was born, and wanted to make sure that as an adult, I had copies for my children! (I told you I grew up on Little House!) This was a great gift, because none of MY copies matched, but Grandma's do! I think I enjoyed watching the DVD the second time even more than the first time, because I could pick up details I missed the first time through. I know it is one we'll watch again and again.
When you're done watching the main documentary (because you ARE going to want to get it,) be sure to go back to the disc menu and watch the 'Director's Diary' from Dean Butler. He shares the story of the filming and production process for the documentary, along with a running story of his trip through and around the great plains and Missouri.
Since we had just been in Missouri a few weeks before the DVD arrived, I heard lots of comments form both girls about how they recognized the terrain. Kurt wanted to be reminded of why we hadn't stopped at Rocky Ridge Farm on the trip. (An oversight that will be corrected on our next trip to MO!)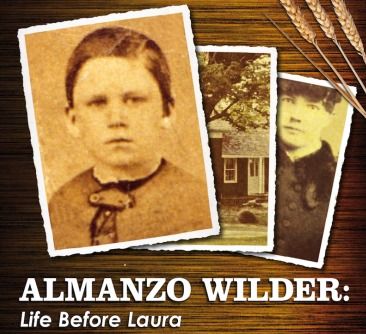 So go ahead, plan
now to get your copy of this great DVD... even if it DOES have the longest name ever :) Little House on the Prairie: The Legacy of Laura Ingalls Wilder. Also, be sure to click the banner below to read reviews about the Almanzo Wilder: Life Before Laura DVD!