Ever since Emily was a preschooler and was diagnosed with atopic dematitis (skin irritation from fabric softener) along with Eczema, we've been careful what we put on our skin. Kurt has had psoriasis since he was a teen, and Emily developed it as well a few years ago. Since we're careful about what we eat, we're doubly careful about what we put on our skin, and we stay as far away from petroleum products as possible.
So imagine my delight when a chance came along to review skin care products from a 'natural' company! Now, please remember, just because something is natural, doesn't mean its good for you! After all, arsenic is a naturally occuring compound, but I wouldn't want it anywhere around my family! So, after some peeking into Beeyoutiful's website, I said "pick me, pick me!"
Beeyoutiful's goal, as stated on their website is this: "As much as in in our power, we want to aid others in obtaining and maintaining good health." Sounds like a "kindred spirit" to me.
We received 4 products, which I'll cover in detail below. If you're running short on time, now's your cue to bookmark this review, you'll want to come back when you have time to read the whole thing well, might I suggest you bring a cup of herbal tea with you?
First up: Hair Shine, $15
Hair Shine is a spray in conditioner that smells (smelled- it's all gone) wonderfully like a citrus tree. Not too strong of a smell, because it's mixed with Aloe Vera, and Lavender and Rosemary essential oils. This was a hit with all of three of us girls that used it. Arlene was bummer because by the time she realized how well it worked, Emily had used most of it. It really does last a while, but both girls have a huge amount of hair...good thing you can get a volume discount if you buy 3 or more bottles! During the more than a month we were using the Hair Shine, Emily received numerous compliments from friends and co-workers who noticed how nice her hair looked. She also likes that it helped control the wavy poof that she gets at the end of her hair, it's not curls, just enough body to drive her crazy at times. I was impressed that she liked it so well, it's been years since I've been able to get her to use conditioner...she usually just brushes her hair and grimaces because she doesn't like how typical conditioners makes her hair feel oily. Here's Em's quick snippet:
Beeyoutiful
I like the Beeyoutiful products because they work really well, even if used on a semi-regular basis. The body cream, when used often, really does make your skin very soft. And the products don't smell like house cleaners, they smell natural and wonderful so that you want to use them. I don't normally like conditioner, but I used a whole bottle of hair shine.
Yes, hair shine is something we'll be re-ordering !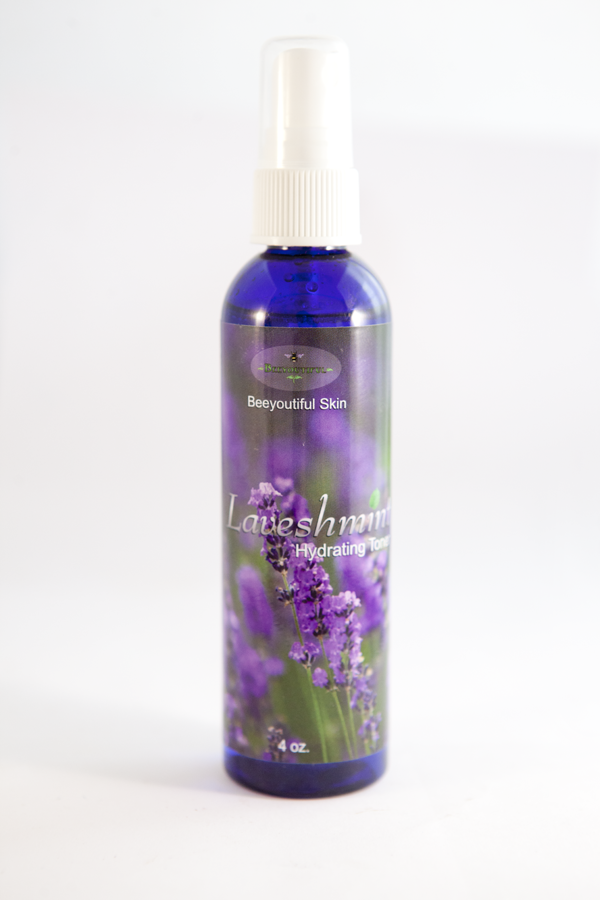 Why do you need to use a toner? Well, even if your cleanser is ph balanced to your skin, your tap water probably is not, so a toner is a great idea. This one has a sprayer with a super-fine mist, which makes it a good choice for either your face or your body. The smell is...wonderful! Lavender is MY scent of choice, and since this toner is made with both Lavender and peppermint essential oils, I'm hooked. It also includes organic aloe vera (the skin's all-time favorite healer) and a mild, food-grade preservative. That's another plus to Beeyoutiful's products over some others you'l find at the local health food store, mild preservatives, no petroleum products, and no SLS's (sodium lauryl or laureth sulfates.) At times in the past, even I, whose skin usually isn't sensitive, have had a bad reaction to the preservatives in otherwise "natural" skin care products. In my opinion, the less ingredients, the better.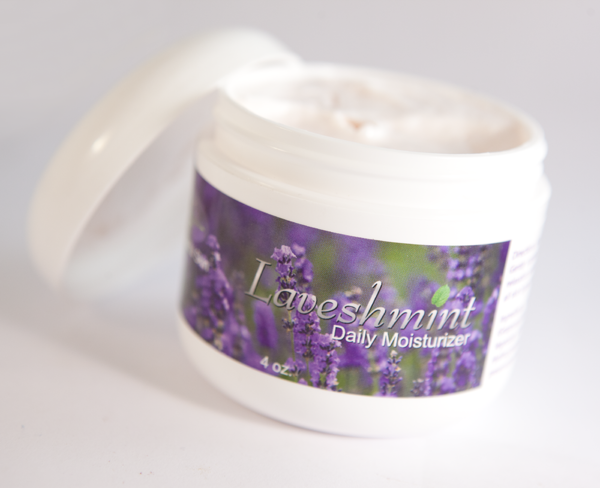 Ever had a product you loved and wished you could give to everyone for their birthdays? This would be that product for me. It takes such a small amount of this moisturizer to make my face feel super-soft that I decided to try it on my legs too. Do you know, how they get all dry and yucky when Fall comes and you're outside in the breeze? This is SO good for hydrating them. I've also used it on my arms, and hands. The smell makes me want to just use it as an airfreshener, but the silky consistency makes me hope the jar will last forever. In a month of using it for my face, I used less than 1/4 of the 4 oz jar, that's superb coverage! Besides the obvious Lavender and Peppermint essential oils, it contains aloe, coconut oil, grapeseed oil, and vegetable gylcerin. It has more preservatives than the other two products mentioned (although still mild ones) because it is a cream/silk in a jar and needs to not grow any nasties that might get in it from my fingers or the air when I'm getting some out. If you're wanting to treat yourself, go order a jar of this!
This is my husband Kurt's new favorite skin care product. (If you read the website, you'll see it's marketed to women, but don't let that stop you from getting it guys!) Kurt has had flare-ups of Psoriasis for as long as I've known him (20+ years.) He head a particularly bad flare up this past Spring, and had 3 patches on his side that just didn't want to go away. Now, back when we got married, Kurt would go to the dermatologist every year, and he's prescribe a pharmacist-mixed concoction of all sorts of steroids and skin conditioners, with warnings about how long Kurt could use them before they's permanantly affect the texture of his skin. Those were scary days sometimes, and all the medicines did was treat the symptoms, not the cause of his Psoriasis. Since then, we've modified his diet several times, and cut out the use of all petroleum based skin procucts, and he has done much better...but these 3 spots just weren't going away. Even after time out in the sun on vacation, they were still there. Then the box from Beeyoutiful arrived- bliss!
I asked Kurt if he would help us with the review, he said the other prodcuts were too girly, until he smelled this one. Vanilla-yum, makes me think of sweet rolls with icing every time I use it! So he tried it, daily, on those 3 spots, after a couple weeks, he showed me how much better two of them were, almost gone. After about a month, even the worst spot has almost disappeared. Now for those of you who know my husband, he's a big guy, and has alot of skin, 6'4" worth of it, so daily he would put on his lotion, and them put the body butter on those 3 spots. After a month he hadn't even used 1/4 of the jar- that is amazing! I've used it too, a few times on my heels where they get dry- it works wonderfully. Then more recently, on my fingers and knuckles. When Fall winds start to blow, I always struggle with my fingers drying out, and sometimes cracking along the sides. Between gardening, baking, and all the other things I do every week, they take a beating. I usually spend the fall and winter months sleeping in cotton gloves to keep the lanolin off my pillow in hopes of saving my hands. This year, I'm going with the body butter. It is more easily absorbed than the lanolin, and not greasy. Like I said before, it makes me thing of sweet rolls with icing when I smell it, not such a bad thing when you're headed off to dream-land.
So would I recommend YOU try Beeyoutiful's products- definitely YES! I'll be ordering more of their products myself, let me know which are your favorites once you've tried them! They also have a "wishlist" feature on the website, just in case you find too many new favorites to try all at once.
Several other members of the Crew also reviewed products, including some of their "first-aid" type products and their mineral cosmetics. You can read any or all of the other reviews by clicking the banner below.

As members of the TOS Crew, we received these 4 full-sized products in exchange for an honest review. All opinions are ours.