Do you need a good laugh? I mean a really deep - from the belly laugh? If you answered yes, then you should try Snake Oil from Out of the Box Games! We have been reviewing this game for a little over 5 weeks and I can't remember the last time I laughed this much.
The term Snake Oil was originally used to describe a fraudulent health product. Think: the Old West and traveling salesmen! Since we often hear that laughter is the best medicine, this game of Snake Oil is re-writing that meaning. This card game is designed for ages 10 and up, and retails for $19.99. That means for less than one trip for a family of four to the movies, you can enjoy hours and hours of family fun. The girls and I played Snake Oil with a group of their friends, some as young as 9, and had a laughter-filled hour. We have played it over and over again at home as a family as well, it's just that much fun!
There are variations of the game included on the instruction sheet, but we just stuck with the original rules. Each player draws 6 word cards, and then each player takes a turn as the customer. When it is your turn to be the customer, put down your word cards and draw from the customer pile. Each of the 28 customer cards has two characters, so you can decide whether you'd rather be the Alien or the Taxi Driver, the Secret Admirer or the Caveman, the Dictator or the Newlywed. After you've chosen your customer, the other players work from their 6 word cards to try to pick the two words that they think will make the best product to sell you. It is not just the title of their product, but their sales pitch (up to one minute,) that you use to decide who wins that customer. Once you decide, you award the customer card to that player, and the next person draws a customer card. After every round that you create a product, you draw two more word cards so you always have 6 to choose from. I think the funniest combination was when the girls' friend Ben chose the Diva side of the customer card and their friend Victoria sold him the "Sparkle Pill." We've had other great combinations, like the "Fashion Hat" that was sold to the Billionaire, and the "Fart Grenade" sold to the Soldier.
With this game, it's often the silly product combinations that your friends make up that are even more fun listening to than actually winning a customer card. The basic game has each player taking one turn as the customer, and then whomever has the most customer cards win, however, its so much fun to play that we often go around two or three times.
In the example above, you can see that the customer is a cheerleader, and she has four choices. The player being the cheerleader chose the "Fashion Radar" as her favorite product. In the other example, what hostage wouldn't want a rubber lock so they could get home sooner?! Remember, its not just the title, the sales pitch is important. This game provides ample opportunities to be creative!
In the pictures above, you can see Arlene's hand of 6 word cards. She has to choose two of them to make a product to sell to a Dumpster Diver. What product could you create out of two of those words? On the left you'll see some of the customer cards, where the Snake Oil snake is dressed up in character. The bottom shows Arlene and Emily playing Snake Oil with their friends one Sunday afternoon. I cropped out their friends to protect the (almost) innocent, because I forgot to ask their parents' permission to use the photo -oops!
Overall, we highly recommend this game. Both girls picked it as one of their favorite reviews of the year. I will mention just a couple things, even though this is designed for ages 10 and up, you can play it with younger kids. Two of their friends that played are both 9. (There is a younger kids' version for ages 8 and up.) If you're going to play this often with children under 12, you might want to edit out a few of the cards. This would also apply if you're quite conservative in your views, or want to make it all-kid friendly so they can play without you. When we played with the younger kids, we chose to not use some of the word cards. There are a few you might want to remove. Out of the 336 word cards, I can see 11 you might want to remove: poop, shame, alcohol, hell, murder, hormone, bra, booger, revenge, vomit, and underwear. That still leaves you over 300 words to create your products from. In the customer cards, we left them all in play, but you might wish to remove: executioner, witch, and gangster, (this would mean you're also removing protester, politician, and prom date.) Our girls are 14 & 16, so we leave them all in. I just wanted you to be aware of these few cards in case you order this as a holiday or birthday gift and want to remove them before revealing the game.
Snake Oil is a fun game for the whole family. When we've played, the adults have had just as much fun as the kids. This is definitely family-friendly!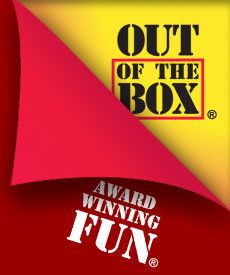 You can connect with Out of the Box Games on Facebook, Twitter, and YouTube.
Dozens of Crew families joined in on this review, for both Snake Oil, and Snake Oil- Party Potion for younger kids. Click the banner below to read all the reviews!