How are your critical thinking skills? Emily and I have been reviewing "The Discovery of Deduction- An Introduction to Formal Logic" from Classical Academic Press. The further we get in the book, the more I see we BOTH need to work more on our critical thinking skills. This is not a lightweight book, but a High School level, year-long course about Formal Logic. (Formal logic focuses on the structure of the argument, whereas informal logic focuses on the content of what is being argued.)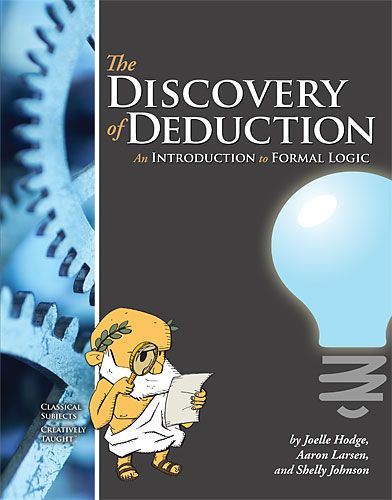 This will be a course you will need to take WITH your child, or have them take as part of a group. There are several sections where Emily had questions and I had to go back and re-read it myself before I could help her. (That's not to say it is TOO difficult, but it IS an in-depth think-it-through, heavy-weight course.)

Emily has has some informal logic before this, but I think she would be better able to understand the rest of the course if we stop and take a few months to go back over a course in informal logic before we continue in the book.

Thankfully, Classical Academic Press (CAP) has

"The Art of Argument: An Introduction to the Informal Fallacies."

CAP recommends using an informal logic program before beginning

"The Discovery of Deduction"

and even thought their website says that "Discovery of Deduction" can be used as a stand alone program, I would not recommend using it until AFTER your student has done quite a bit of informal logic.

Emily has spent some time on informal logic, and she loves to read Sherlock Holmes (I know, it's not the same thing,) yet, she still had a difficult time with some of the sections. We have been working on this review for about 5 weeks, and she is in chapter 3. (There are 9 chapters total.) Since I consider Emily above-average in both her verbal and comprehension skills, that leads me to recommend this course for High School Juniors or Seniors. Now, if you've been Classically educating your children for a few years, and you spent their Jr. High years on informal logic, then your children may be ready for this course as a Freshman or Sophmore. On their website, CAP has a free PDF download of a

suggested schedule

for the course. This, along with the

sample chapter

, can allow you to see how much work is assigned for each day and integrate it into your student's schedule.

I do think it is a quality book, and I recommend that you and your children study both informal and formal logic. If you have any doubts as to why... just watch the evening news, you'll see example after example of logical fallicies and invalid arguments. You will also see examples of people NOT using valid evidence to support their claims.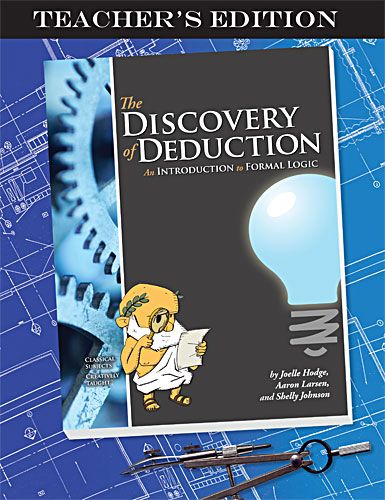 One part of this book set (we received both the

student

[$26.95] and

teacher

[$29.95] books for the review) I really liked is the Glossary, which is in BOTH books. Not only does it give the short definition of all these new-to-me terms, it has the section references listed as well (like an index,) making it easier to go back and review the term in the context it was presented. My total school experience in logic consisted of a couple months of informal logic woven into my High School Government class- a LONG time ago!
When we do pick this course back up to complete (after a brief trip back through informal logic,) I think I will have Emily make a vocabulary list/ glossary of her own as we go through each lesson. Spending the extra time necessary to rewrite the terms in her own words should help her solidify the concepts better as we move through each chapter.

Whether you are Classically educating, are Charlotte Mason or Delight-Directed style learners, this book would be a solid choice for a High School elective. Note that it is a two-semester course, so don't try to rush it. If your student can be part of a co-op or class where this book is used, that would be excellent. If you are planning to do this course at home, remember that YOU the parent will also need to take this course. (It's really hard to argue logic with yourself, you always win, even if your argument is invalid!)

Check out what other Crew reviewers thought about this set by clicking the link below!