If you've already used SpellingCity.com and like it, you may be wondering why you'd want to pay for a premium membership. Well, allow me to tell you about a few of the premium package features.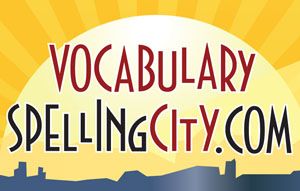 First, the premium membership includes Vocabulary, making it VocabularySpellingCity.com. Would you like to keep track of your children's test results, and track their progress? These features are available on the premium membership, which only costs $29.99 a year for a family of up to 5 students. The individual logins and passwords make keeping track of each student's progress a breeze.
With your upgrade you also receive synonyms, antonyms, and the ability to make printable flashcards for your kinesthetic learner. Our girls' favorite parts were the extra activities like "LetterFall" and "Word-O-Rama."
We try to limit the amount of time our girls spend on the computer, but VSC is a good use of their time. Even on words they already know, it's good to review. I appreciated the ability to import spelling lists OR choose from common word lists they already had available. Yes, you guessed correctly, I used the pre-made lists, I'm a busy Mom.
I also appreciated the support staff at VSC. Even when you write them down, sometimes login information gets lost. When that happened to us, they sent a reset password to my email right away, and when I had a more complicated question, they responded via e-mail the following morning.
Here's Emily's summation of it all:
Vocabulary & Spelling City is a online spelling program geared for elementary students to improve on and test their spelling and vocabulary. It has spelling and vocabulary lists, tests and fun spelling and vocabulary related games to help them. As a parent, you can look up your child's school and teacher and find list that they have put there for your child to use. Or you can put your own list on to have your children use. It's fun and effective and your children will improve in their spelling and vocabulary.
Emily is 14, and sometimes thinks she shouldn't need to do anything with Spelling, but I find she spells better after some review time on VSC. It also gives her some time on the computer where she doesn't need to share with her sister.

Overall, VocabularySpellingCity is a good use of your time and money. There is a learning curve for the parent/ teacher, but they have lots of short instructional videos to watch that explain how to use each feature, and with the premium membership, they offer phone support.
They also offer plans for classroom use ($49.99/year for up to 25 students, and a bigger plan for larger classrooms or whole school use,) so if you're a teacher looking to help your students, this could be the answer you've been looking for.
As members of the TOS Crew, we received a family subcription for free in exchange for an honest review. All opinions are ours. (We like it!)