Hewitt Homeschooling Resources www.hewitthomeschooling.com has put together a complete High School level Literature & Composition program. Each of the 12 course options are designed to require one semester to complete (they even have a speech course.)


We used their Early to Mid 19th Century British Literature book during this review.

http://www.hewitthomeschooling.com/Materials/mItem.aspx?id=8074 Even though Emily will only be a 9th grader, we chose one of the courses suggested for 10th grade and up because she had already read many of the selections in their 9th grade recommended courses. If your student has been reading a lot of Living Books and/or you tend to educate Classically, you will want to pay special attention to which books are read in each course when making your selection.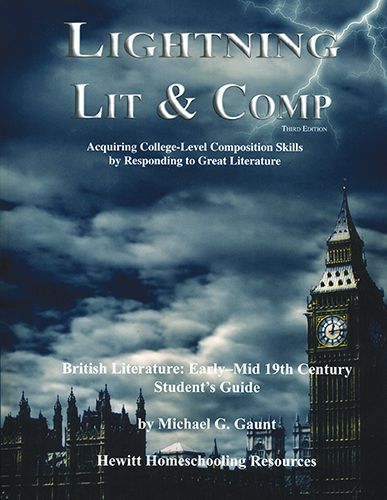 First off, I will say, this course was laid out in a way that the parent has to do very little other than grade the papers. I appreciate that because there always seems to be something else on my to-do list, or her younger sister is asking for help with her work, when it is time for Emily to do her Lit assignment. I appreciate High School level courses that allow the student to take the responsibility upon themselves, preparing them for life after High School, and this fits that bill.


The Student book starts with a rather lengthy ( but worthy) introduction section which was a great reference for Emily to look back through before coming to ask me a question. It covers all of the basics that they will encounter in the course including: how to read poetry, explanations of syntax, simile, metaphors, alliteration, and meter (to name a few!) It also goes rather in depth on how to write a quality paper using an outline, steps to follow, and includes a check-list for the student to use when checking their own papers before telling Mom or Dad "I'm done!"

This course was laid out into 4 units, with a total of 8 lessons. The first lesson focused on some of the poetry of William Blake. After reading several poems, ad answering the Comprehension Questions, teh Writing begins...there are 6 writing assignment in each lesson. I chose to have Emily complete 3 of them. One of the ones she chose was #5, to write a poem at least 12 lins long describing an issue that is important to her. Here are a few lines from her poem "Summertime"
Hot, hot sun and cool tree shade.
Fun times swimming and babbling brook,
A great big novel and a comfy nook.
Popsicles and sticky faces,
Large umbrellas and beachy places.
Summer storms and puddle jumping,
Hoping, skipping, running, jumping.
(there are 3 more stanzas, but I hope you get the point)
The second lesson has the student reading Jane Austen's "Pride and Prejudice." While I did appreciate that there are comprehension questions for every few chapters so the student doesn't forge the story, it did seem a bit much. Emily is used to narrating what she has read "re-telling the story" in her own words, so the plethora of questions seemed a little overdone. If your student is used to lots of comprehension question- great, if not, you'll need to work out your own system for covering this part. After the q's there is a nice, in-depth section for the student to read about "characterization" and the differing ways authors use it. This is ideal because the Writing Assignments ask the student to use characterization in its different forms.
The Teacher's guide is about 80 pages. It has basic answers to the many, many comprehension questions ( just in case you've got other things to do, like cook dinner instead of reading Jane Austen-LOL!) It also has a great outline sheet for grading the writing assignments, and many helpful tips for what to look for in your student's papers. It is definitely worth the $2.95 price just for the grading tips!
Hewitt offers many purchase options, from just the student book, to a package (with a 10% discount) that includes Student & Teacher books plus all 4 full-length books your student will be reading. The complete package for the course we reviewed costs $48.36.
If you're looking for a quality Lit course that your student can do mostly on their own, this would be a good option. While some people may just hand their students the novels and tell them to read them, I think there is great value in the specific literary terms, ideas, and assignments in this course. High School is a time to prepare for life, whether college or career, and the requirements of learning to write well and follow instructions carefully can both be learned through this course.
As a member of the TOS Review Crew, we were provided the Teacher's & Student's books for this course free of charge in order for an honest review. All opinions are mine.